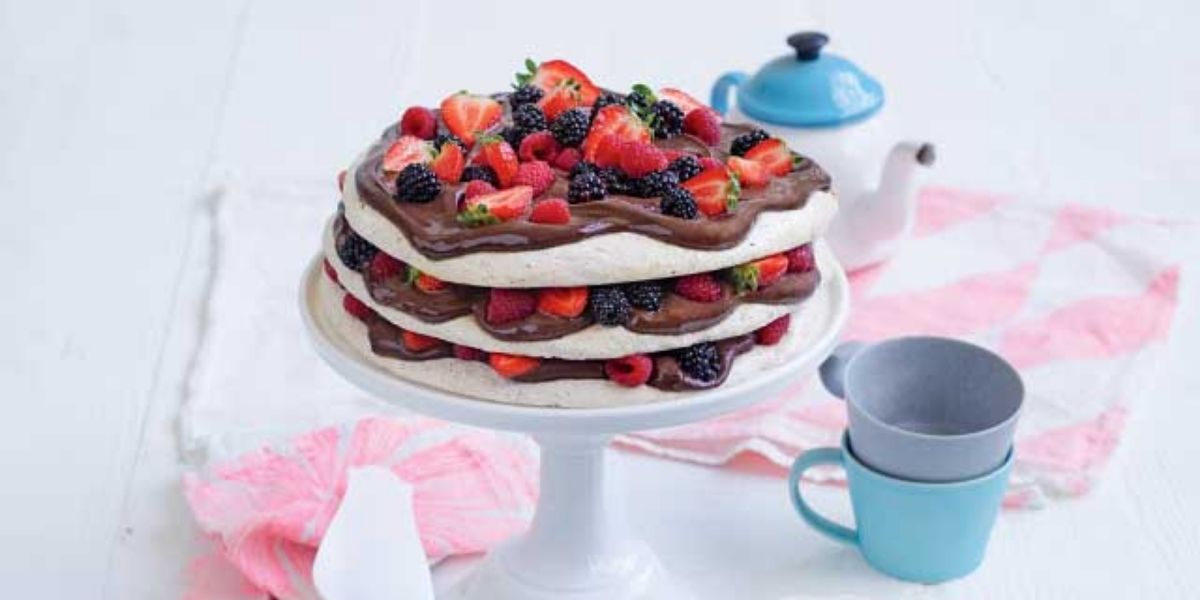 Choc - Hazlenut & Berry Meringue Torte Recipe
Spoil someone special with this delicious homemade cake!
Prep
20 mins
(+ cooling time)
---
Cooking
1 hour
---
Difficulty
Moderate
---
Serves
16
Ingredients
6 Coles Australian Free Range Egg whites
300g caster sugar
1⅓ cups (135g) hazelnut meal
1 tsp white vinegar
250g strawberries, halved
125g fresh or frozen blackberries
125g fresh or frozen raspberries
Chocolate custard
300ml thickened cream
300ml full-cream milk
6 Coles Australian Free Range Egg yolks
100g caster sugar
2 tbs cocoa powder
1 tbs cornflour
Pinch of salt
100g 70% cocoa dark chocolate, chopped
1 tsp vanilla extract
Method
Preheat oven to 130°C fan-forced. Line 2-3 baking trays with baking paper. Draw three 20cm circles on the paper and turn paper over.
Use an electric mixer to whisk the egg whites in a clean, dry bowl until medium peaks form. Add the sugar, 1 heaped dessertspoonful at a time, beating well after each addition, until the mixture is very stiff and glossy. Gently fold in the hazelnut meal and vinegar until almost combined.
Using the circles as a guide, spread the mixture in three even discs on the prepared trays. Bake for 1 hour. Turn oven off. Leave meringue discs in the closed oven to cool completely.
Meanwhile, to make the chocolate custard, combine the cream and milk in a large microwave-safe bowl. Heat in microwave on high for 3-4 mins.
While the milk mixture is heating, whisk the egg yolks and sugar in a bowl until well combined. Whisk in the cocoa powder, cornflour and salt until smooth.
Add the egg mixture to the hot milk mixture and whisk well to combine. Heat in microwave, whisking every 2 mins, until the custard thickens. Add the chocolate and vanilla and whisk until smooth. Use a spatula to scrape down the side of the bowl, then cover the surface of the custard with plastic wrap and set aside to cool completely.
Place 1 meringue disc on a serving plate. Spread with one-third of the chocolate custard. Top with one-third of the berries. Continue layering with remaining meringue discs, chocolate custard and berries. Serve immediately.
---
POH'S PAVLOVA TIPS
Take your time on the meringue
"Beat the meringue on medium speed so you don't overwhip it – if you beat on high, the mixture will overheat and the air bubbles will pop. Pinch a little meringue mixture to test – if you feel any grains of sugar, keep beating until smooth."
Cook the custard in the microwave
"My microwave custard is failsafe. On the stove the chances of it going lumpy are really high. This way, if you forget it nothing happens and it never catches on the pan. Even if it starts to look overcooked on the edges, just whisk like mad and it will be perfect."
Check the consistency
"Don't worry if the cooked custard looks too runny – it thickens up a lot when you add the chocolate. If you need your custard to hold its shape longer, chill it until you're ready to serve. If it's too thick, whisk in a little milk to reach the texture you want."
Disc look flat? Don't stress, just go for it.
"Don't worry if the meringue looks a little deflated. The joy of this layered pavlova is it doesn't matter if the meringue turns out light and fluffy, or dense and chewy – it's delicious either way and still stacks up beautifully."
---
NUTRITION INFORMATION (PER SERVE)
Energy 1274kJ/305 Cals (15%)
Protein 6g (12%)
Fat 17g (24%)
Sat Fat 7g (29%)
Sodium 69mg (3%)
Carb 32g (10%)
Sugar 31g (34%)
Dietary Fibre 3g (10%)
Subscribe to our newsletter
Subscribe today to receive the latest offers, events and exclusive promotions at Port Adelaide Plaza.